Lucky Dice
The Game
In Lucky Dice, a player bets on the result of the roll of a pair of standard dice. If the player guesses correctly a win occurs.
Below is the game screen on opening;
Bets and Odds
Each betting spot on the table is a separate bet. The bet is shown in the top of each box, and the associated odds are shown below it. Eg in the example below;
| | |
| --- | --- |
| | the bet is 4, and the odds are 11.50 |
The possible betting options are shown below;
| | | |
| --- | --- | --- |
| Bet Type | Description | Example |
| Number | Bet on a single number by placing your chips directly on the number. | |
| Hi/Mid/Lo | Bet that the outcome of the roll will be low (2-5), middle (6-8) or high (9-12) by placing your chips on either the hi, mid, or lo betting spots. | |
| Odd/Even | Bet that the outcome of the roll will be an odd or an even number by placing your chips on either the odd or even betting spots. | |
| Any Double | Bet that both dice will be of the same value, eg two 5's. | |
| Any Mix | Bet that both dice will be of different values. | |
How to Play
Select the value of your chips. The currency will reflect the currency of your account. To select a chip value, click on the chip of the value you require. The following chip values are available: 50, 100, 250, 500, 1000, 2500 and 10000. By default the 50 chip is selected.
Place your chips on the appropriate betting spots by clicking on them. Each click will place a chip of the selected value on the table. Different chip values may be used on different bets by selecting a differing chip values.
If you hover over the different betting spots on the table, the spot is highlighted, and the odds, stake and payout are displayed.
Once you are happy with your selection, click on Roll to roll the dice and your bet will be placed.
Game Controls
Please read Dice Game Controls for details of controls used within this game.
Winning Bets
When the dice have been rolled, the result will appear in the top right corner of the game screen in the History Table, and winning betting spots will be highlighted. If you have a bet covering a winning betting spot, you win and your winnings will be credited to your account.
Payout values are calculated as ODDS multiplied by the Stake for each bet.
In the example below, the combined total of the rolled dice is 6, so the '6', 'even', 'any mix' and 'mid' betting spots are highlighted, and any bets on these spots win.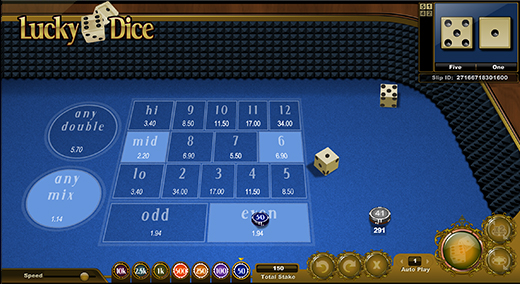 History Table
This table shows the dice results of the most recent 10 rolls.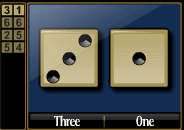 Likelihood of Winning
Please read Likelihood of Winning for details of win probabilities of these games.